Company News & Announcements
---
BCS Announces New Vice President
Bob Cook Sales is pleased to announce that Mike Katz will be joining our leadership team as Vice President. Mike has been with BCS since 2007 and his background includes experience from both the traditional and retail side of the industry. Mike has held several positions throughout his 30 + years in the automotive aftermarket business including: Store Manager, District Manager, Buyer, and Director of Purchasing. In 2017, he earned his Certified Professional Manufacturers Representative (CPMR) designation. In addition to managing his territory, Mike's responsibilities will encompass sales team leadership, accelerating BCS's revenue through expanding BCS's presence, and contributing to the company's marketing and business strategies.
---
BCS President Up for Re-election for SEMA Board of Directors

Voting begins online May 14th! Visit www.sema.org for more details.

---
BCS Welcomes Brock White to the Team
Bob Cook Sales is pleased to welcome Brock White to the team. Brock comes to us with a background in retail, marketing, sales and technology. Brock was active with the Hot Rod Power Tour, FM3 Marketing, and the Optima Street Car Challenge. Brock has a unique combination of aftermarket, motorsport, and creative experience that will provide an added value to our manufacturer clients. He lives in Fort Worth, TX and will be covering Oklahoma, NM, West and North TX.
---
Jonathan Barber Named to SEMA Young Executives Select Committee

Congratulations to Jonathan Barber for being named to SEMA's Young Executives Select Committee! The Specialty Equipment Market Association (SEMA) Young Executives Network's (YEN) mission is to cultivate young talent in the automotive aftermarket through implementation of education and networking programs.
---
BCS Awarded 2018 SEMA Rep of the Year
The SEMA Rep Agency of the Year Award honors a manufacturers' rep agency for its contribution to the industry for the past 12 months (corresponding with the SEMA fiscal year, July 1–June 30). Considerations include product-line knowledge, communication of critical information between supplier and the client network, updated catalogs, databases and price sheets and continuous training and education programs.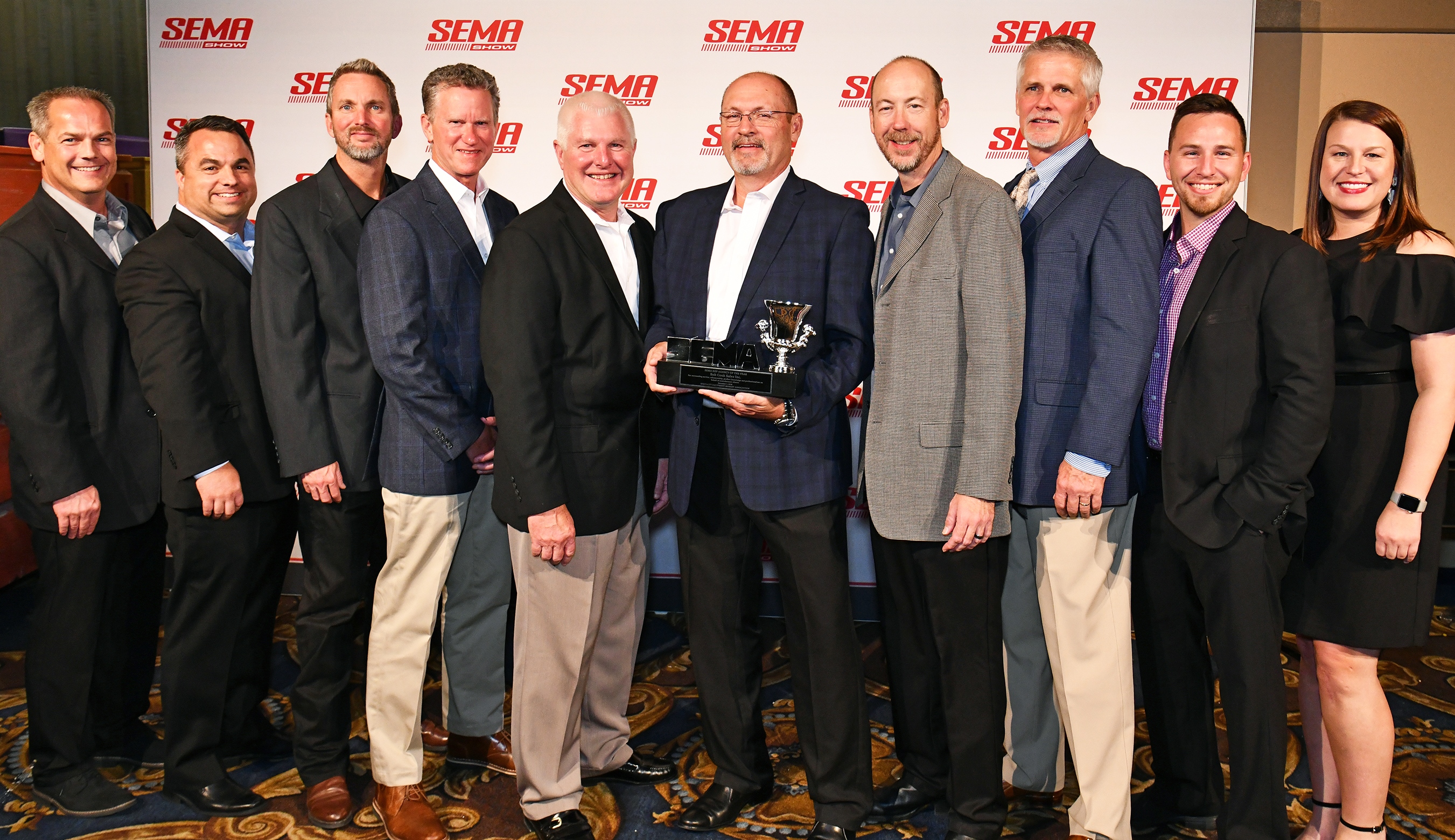 ---
Jonathan Barber - Auto Meter Hustler Award
Congrats to Jonathan Barber, recipient of Auto Meter's 2018 Hustler Award!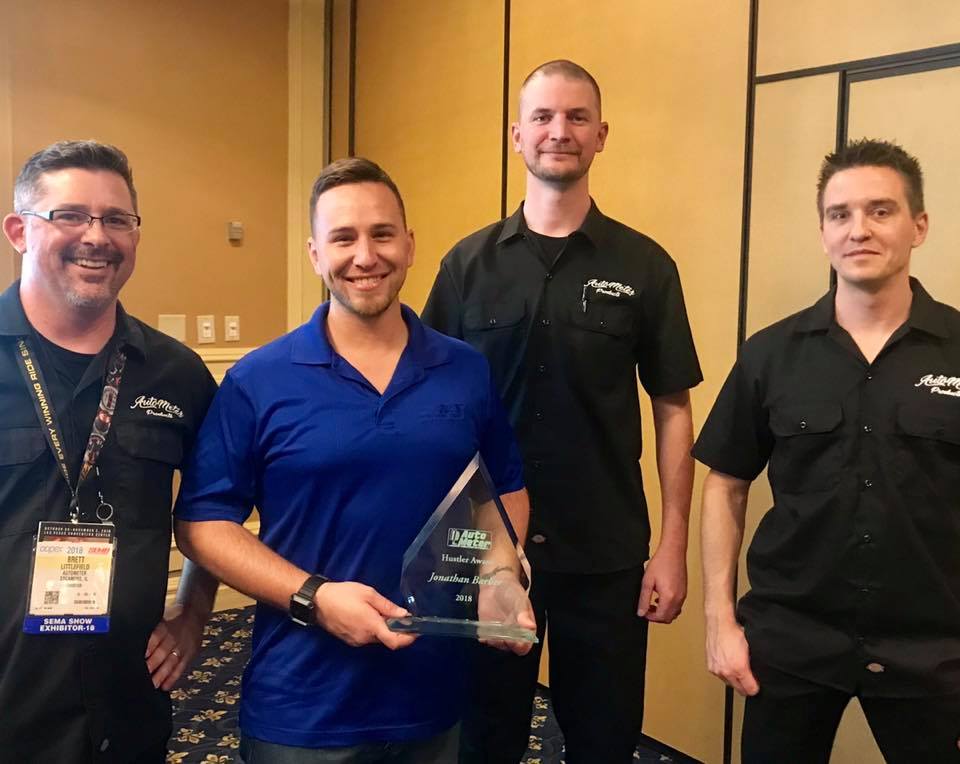 ---
Mike Katz Joins BCS Management Team
In our ever continual efforts to insure that we at Bob Cook Sales are poised to continue our service, commitments, and relationships to our Manufacture Clients and customers; we would like to take this time to announce that Mike Katz is now a junior partner of Bob Cook Sales. This solidifies our succession planning and will aide in the management of the agency with new ideas and perspectives. Mike's wealth of knowledge and commitment is unsurpassed within BCS and we are proud and excited to add him to our management team.
---
Remembering Bob Cook
It is with great sadness that we announce the passing of Robert Franklin "Bob" Cook, Sr. Bob founded Bob Cook Sales, a manufacturer's rep agency, in June of 1979. As his company grew from just himself to a two-man and finally a full-fledged rep business, Cook began to give back by helping to foster the industry. When he wasn't on the road, he devoted himself to SEMA projects. His résumé of services included three consecutive terms on the SEMA Board of Directors, as well as the chairmanships of the WD of the Year Committee, Rep Committee and Dues Review Committee. He also served on the Long Range Planning Committee, the New Products Judging Committee and the Person of the Year Committee. Under his leadership, Bob Cook Sales has been honored six times with the SEMA Rep of the Year award, and Cook has himself been inducted in the SEMA Hall of Fame.
Bob Cook retired in 2008 where he enjoyed working on his farm in Georgia. He is survived by his children: Robby Cook of Winterville, GA, Jeff Cook of Winterville, GA, and Lisa D'Hilly of Huntsville, AL; siblings: Shelma Chafin, Wallace Cook, and Shirley Bryant; two grandchildren and four great grandchildren. In lieu of flowers memorials may be made to the Mayo Clinic for Pulmonary Fibrosis. Bob Cook was a legend and a friend to many. His zest for life and love for the automotive industry will be greatly missed.
---
Les Rudd named 2017 Custom Automotive Network Person of the Year
This award is voted on by CAN membership and recognizes someone who has made a significant contribution for the benefit of the custom automotive distribution system. The award was presented by Tracie Nunez, CAN president, at the 44th annual CAN Connect Conference on Sep. 10. CAN was formerly known as Performance Warehouse Association.
"We are honored to present this award to Les as he embodies a deep passion for the automotive aftermarket," Nunez said. "His outstanding contributions and continued dedication is not only visible to CAN and Bob Cook Sales, but to the industry as a whole."
Rudd is a past CAN rep liaison for more than 7 years and is also recognized by Manufacturers Agents National Association through his CPMR certification via the Manufacturer Reps Education Research Foundation. He currently serves on the SEMA Board of Directors, is immediate past chairman of the manufacturer representative network and is involved on many other industry committees and focus groups.
Exerted from: The SHOP News
---
Congrats to Cathy Clark for being elected to the SBN Select Committee
Congrats to Cathy Clark for being elected to the SEMA Businesswomen's Network (SBN) Select Committee. The SEMA Businesswomen's Network is a dynamic group of professionals representing the women of SEMA. The SBN oversees the continued development and management of Gear-up Girl, SBN SEMA Show Reception, opportunities for SBN Member Networking, SBN Communications, SBN Projects, development of articles and member features, contributes regularly to SEMA Member News, and much more! The SBN, now over 550+ members strong, is the fastest growing group within the SEMA membership.
---
Mike Katz now Certified Professional Manufacturers Representative
Bob Cook Sales would like to congratulate Mike Katz on earning his Certified Professional Manufacturers Representative designation. CPMR® candidates invest one week annually for three years to gain knowledge and insight into operating a more progressive and efficient rep firm. In addition, they acquire an international network of colleagues from many industries. Graduates earn the right to use the distinctive designation and gain membership to MRERF's Institute for Professional Advancement (IPA). Bob Cook Sales is in a very select group of aftermarket automotive rep firms that have three agents with their CPMR® certification: Mike Katz, Eddie Hamilton, and Les Rudd.
---
Mike Katz chosen for SEMA MRN Select Committee
Congrats to Mike Katz! He has been chosen for the SEMA MRN Select Committee!
Upcoming Events
2021 Great Smoky Mountain Jeep Invasion
August 26 - August 28
Pigeon Forge, TN
2021 NATDA Trailer Show
September 1 - September 3
Music City Center, TN
2021 Myrtle Beach Mustang Week
September 6 - September 12
Myrtle Beach, SC
2021 CAN Connect
September 12 - September 15
Frisco, TX